A canteen that tooks like a restaurant!
San Cesario, Modena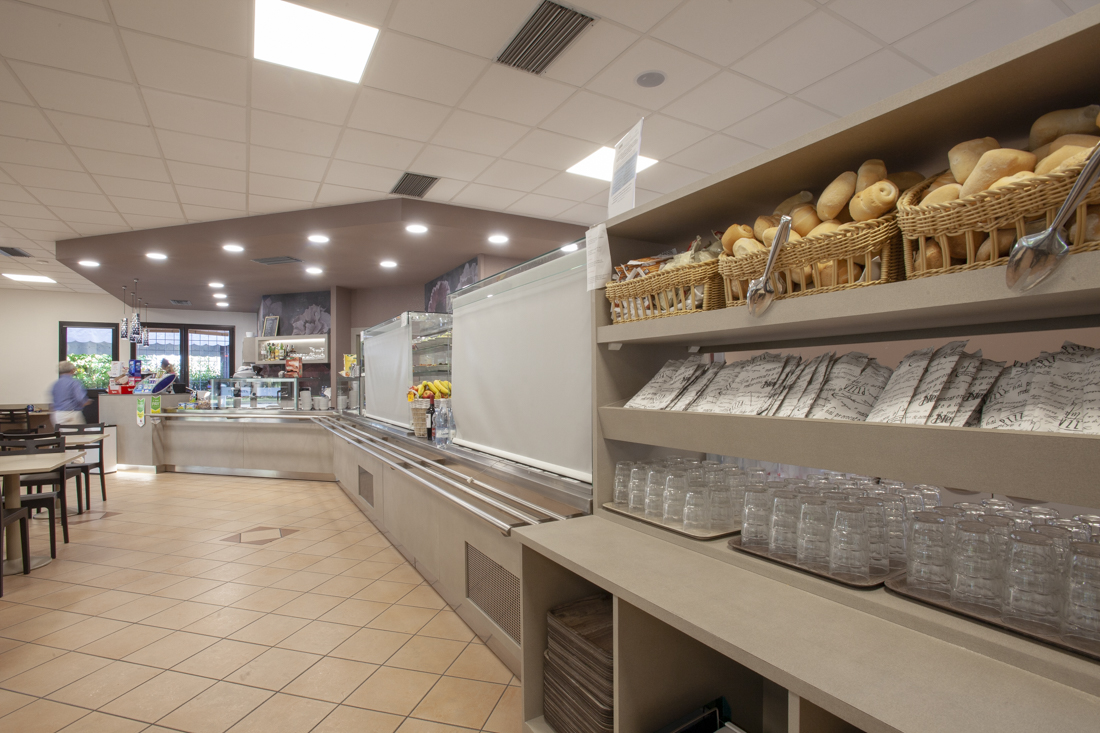 The light gives a sense of hospitaliy and the main colour in the room is warm beige, the same of the restaurant's walls and of the cooked dishes. To enjoy a place where every single detail is designed with care. The  floral motifs on the wall create a glamorous atmosphere, matching the trends of interior design perfectly. The whole location is far more similar to a tasteful restaurant  than to a self-service. From furniture to food, everything makes you feel comfortable and welcomed.
The Oltre Modo self-service restaurant in San Cesario hosts more than 200 professionals and commuters every hour, working in the industrial area ' La Graziosa' near Modena. The self-service desk with ready foods is over 12 meters long. All the furniture is matching and made in laminated poplar plywood. The path to choose the meal is very linear and easy. The first furniture is the one containing trays, plates, cutlery and is tailor-made like all the other furnishings. Then two refrigerated display units follow: one with drinks, the other with cold dishes such as side dishes, fruit and desserts.
Along the path, you find the heated containers for all hot dishes. After the cash desk, the café area widens all around an important shaped counter. The front side of the restaurant is enriched by a compartment with Led lights that emphasise the floral decoration inside, made with the same wallpaper used for the walls behind.
To place the wallpaper perfectly, Novi Arredo's team always creates a wooden support, smooth and dry, on which the wallpaper will last decades. The plasterboard false ceiling 'frames' the café area and gives perfect, dedicated lighting to the room.  Thanks to perforated metal lamps, selected by our architect,  a special atmosphere is created, allowing customers to loosen up and socialize.